The instant you hand over your business card you'll know how effective it really is. Does your prospective client pop it straight into their pocket? Or does something catch their eye and make them pause to look?
The moment is fleeting and easy to miss. But you can be sure that by making people stop to glance at your business card, however briefly, they are committing it to memory. Job done. But how to create this magic moment?
There are several techniques you can use to add the 'wow factor'. You could try printing onto textured paper to create a tactile and unique calling card. Or you could opt for a brightly coloured version to create a 'magpie effect' that catches your prospective client's eye just before they reach for their card case.
Countless businesses have found success through more quirky and off the wall solutions. Maybe you shun paper and go for fabric, ceramic or plastic printed business cards. Or maybe even plump for a conceptual approach and use printed objects that reflect your business offering or service, such as a piece of branch for a dog walking company, or a printed clothes peg for a home laundry and ironing service.
There are other approaches too, that don't rely on concept-conscious tricks. Perhaps you go for the all-out corporate cleanliness, as favoured by Patrick Bateman; perfectly balanced typography on a pristine (and pricey) white watermarked card. Or perhaps you choose a more down-and-dirty approach, and add an element of grunge.
Here we take a look at some excellent examples of lo-fi design; the techniques, colour palettes and influences they employ to produce a creative and unforgettable business card.
This powerful business card uses an iconic graphical treatment and a military-influenced colour palette to create a striking visual effect. Note the subtle use of stars within the lettering and the way in which the typography repeats the business name; building a business reputation that packs an unforgettable punch.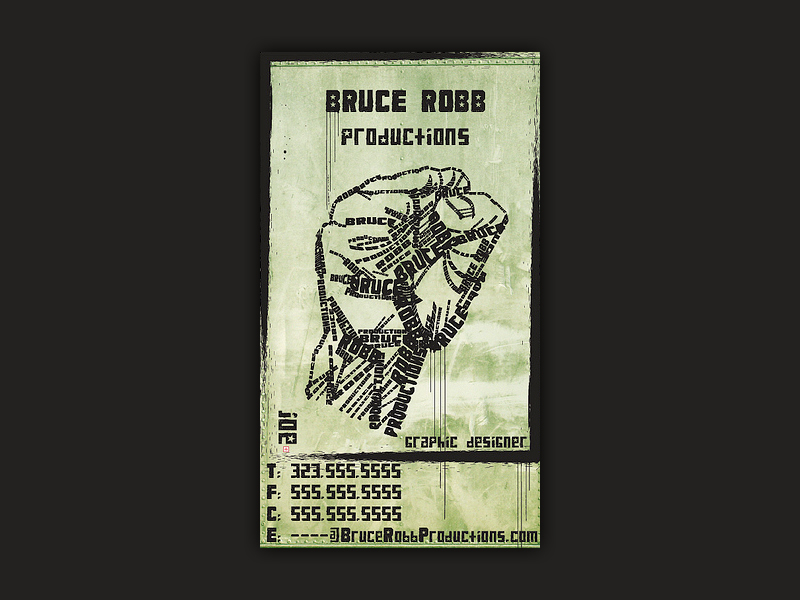 This bold example has been printed onto a custom duplex paper. The minimal usage of red metallic ink on the crest and on the reverse adds a touch of polish to an otherwise understated concept.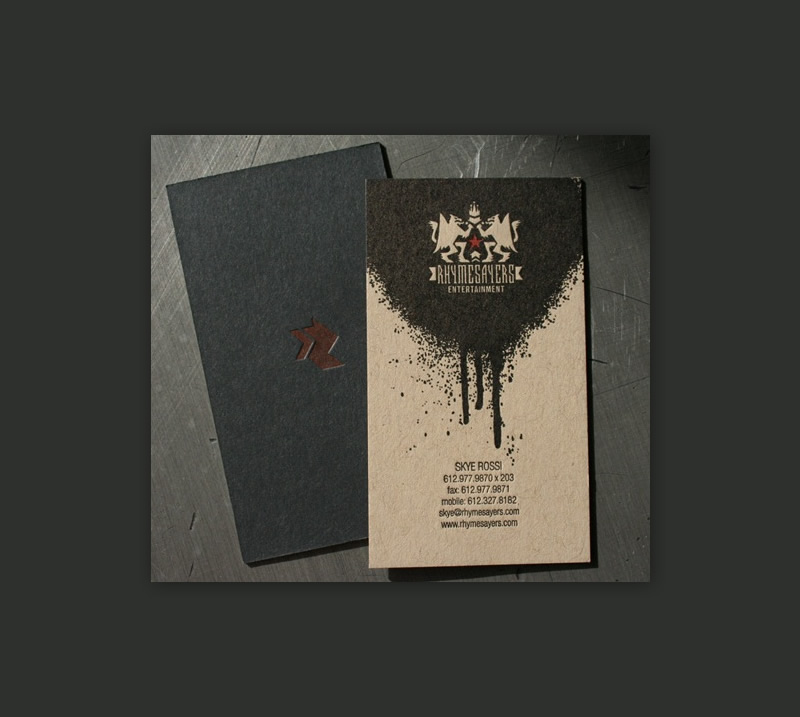 Striking use of colours on a black background really help this business card to stand out. The haphazard application of the brush-effect visuals showcases the creativity and artistic flair of the company and adds a left-field edge.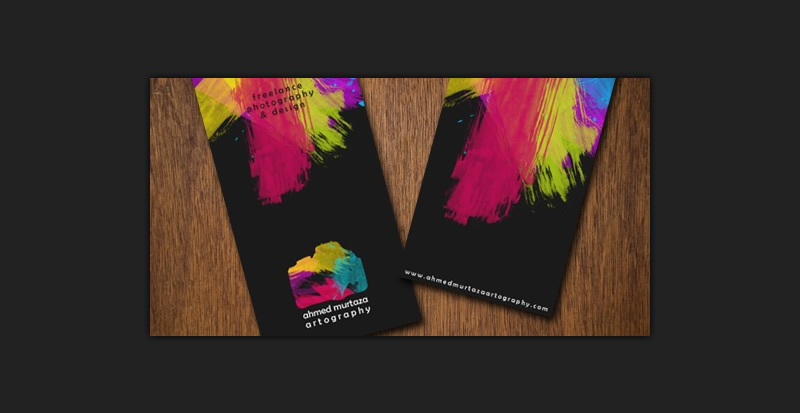 Even non-creative organizations can use grunge-inspired design to great effect. Take a look at this business card, printed using silver ink and copper foil onto black card. Far from diminishing its professional appearance, it creates a look that's on-trend and current within the corporate realm.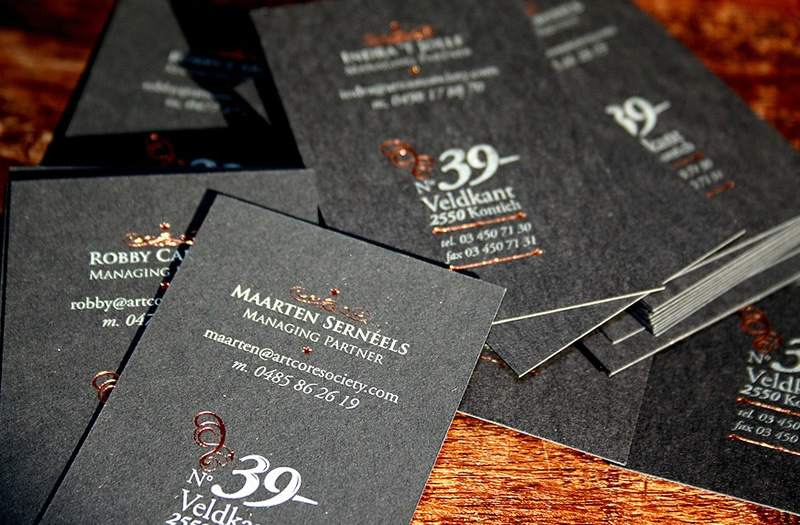 Paint splashes, a monochromatic colour palette, asymmetrical image placement and flashes of turquoise make this business card look anarchistic yet polished at the same time.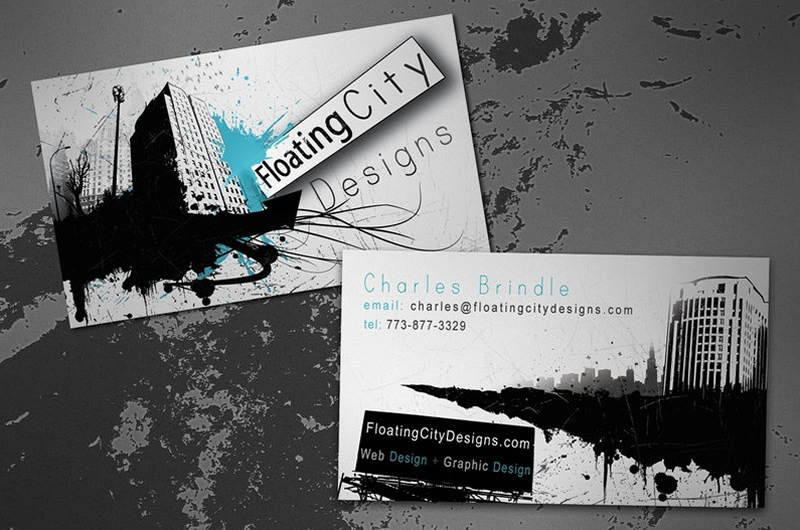 This example shows three business cards as part of a series for a graphic design company. From the print-bleed on the black and white version, to the scratchy typography and translucent twisted rainbow on the colour option, they show a home-made and 'unfinished' look that shouts creativity, style and edge.
The way in which the orange background on this card is slightly bleached-out helps the vibrant typography, sunrise and parrot emblem to really stand out. Also note the slightly aged appearance of the edges; creating a well-travelled look that reflects the global nature of the company.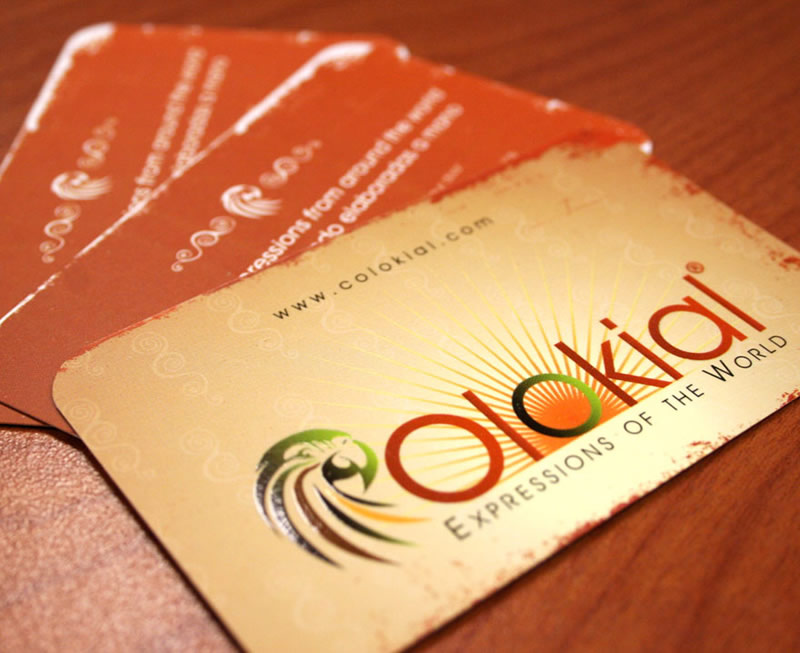 This example, for a graphic designer, has a seriously understated colour palette and paint splashes to create a grunge-inspired style. The strategically placed paint drops on the reverse serve as emphasis to the company's key services and the cut off text on the card's front lends an effortlessly artistic flair.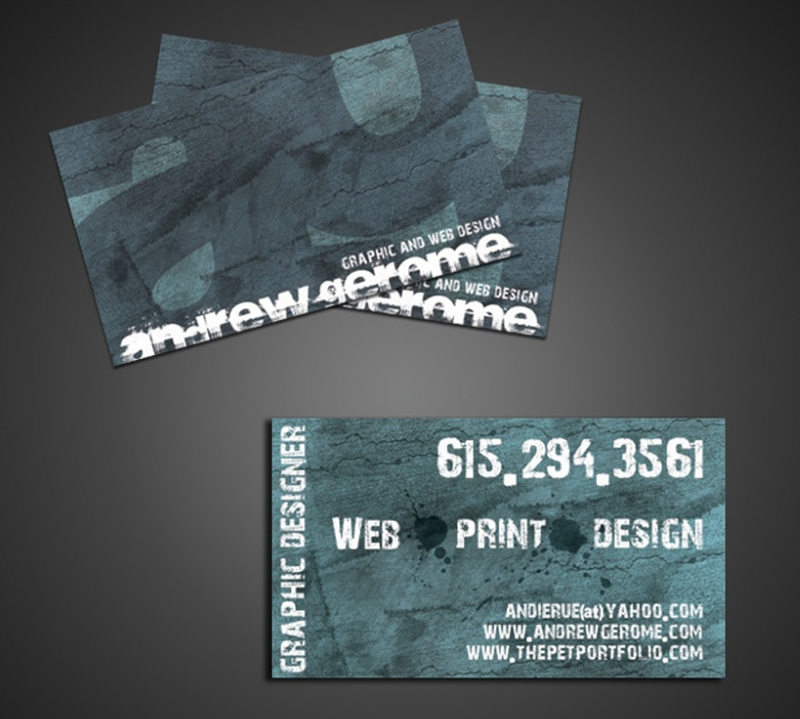 Iconic placement of the initials and beautifully balanced typography are contrasted with the worn and flawed blue background on this card to create a Saul Bass homage that is instantly striking.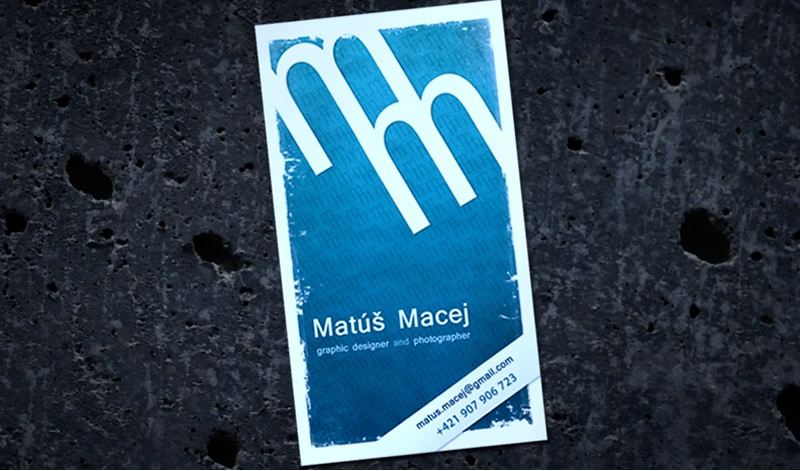 These business cards are part of a collectible set. The design treatment is bold and abstract, with increasingly complex card designs being reserved for prospective clients who have more of an interest in innovative graphic design.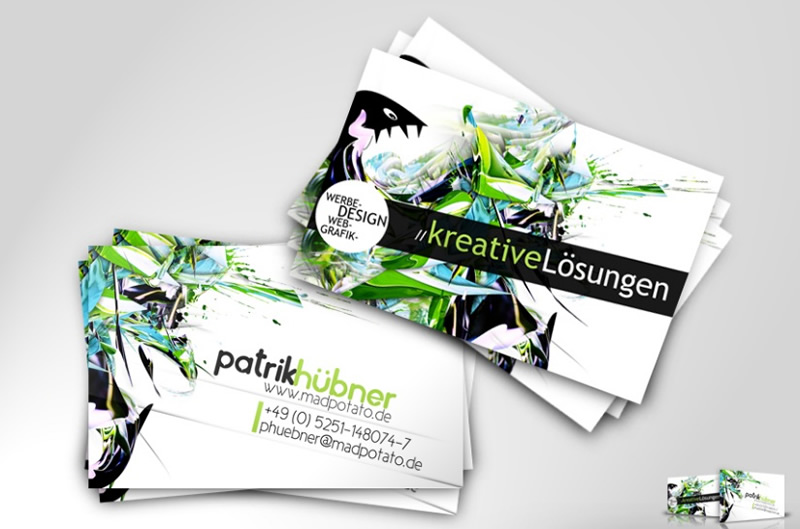 I hope you enjoyed this post, feel free to leave a comment below and tell us what you think!