Yes we did it after the so many requests.
The Gossip City theme is ready for download.
Enjoy.
@Celebrific
Gossip City is a theme for WordPress created by Design Disease. The theme was created based on what people would want to see from a gossip blog.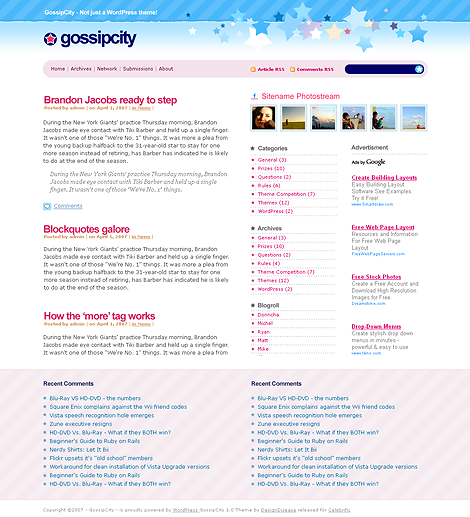 Theme
Once you've downloaded the theme and extracted the files, upload the folder to your wp-content/themes/ directory. Next, go to the '˜Presentation' area in your WordPress administration panel and activate the theme.
Plugins
I've included the following plugins with the theme (in the plugins folder):
Just upload everything in the plugins folder to your wp-content/plugins/ folder and activate the plugins from the '˜Plugins' page in your administration panel. The plugins are customised to match Gossip City theme.
Logo
By default, the theme displays your Web site's title and description in the header. If you want to replace that with your logo, it's easy to do. If you look at the Logo Instructions.txt you will see how easy it is to change the logo. PSD Source for the logo is also included.
License
This theme, like all themes released by Bloggy Network are released under Creative Commons Attribution-Share Alike 3.0 License. Please keep the credit and the links from the footer.
The theme is Widget Ready.
Enjoy.
Last Update:Â  February 03 2009