Here is the second in our series of theme releases.
This theme screams celebrity. Blues and pinks dominate this design making it perfect for either your celebrity blog or any other topic that needs a bubbly personality. This blog theme is simply 2 columns and is fully widgetized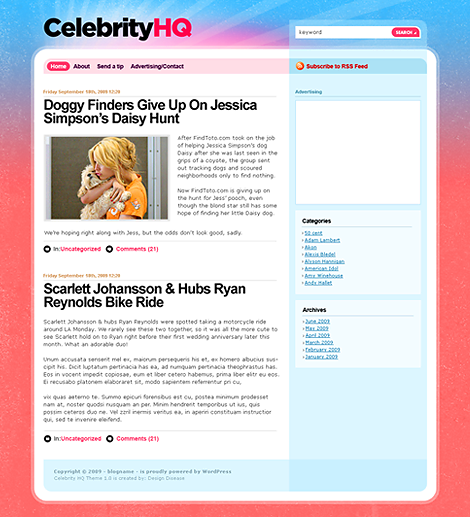 A special feature of this theme is the logo changer. You can use the default WordPress setting ('blog name') or you can use your own logo. Upload your logo in the root folder of CelebrityHQ theme and name it logo.png or you can use the logo.psd as a template. You will find the source in the root folder of CelebrityHQ theme. (Image limitations: No more than 560px/60px).
This work is licensed Creative Commons Attribution-Share Alike 3.0 License. This means you may use it, and make any changes you like. Just leave the credits on footer if you respect the designer's work.
@Update
Gravatar issue fixed. Download the theme again.
Header Problem still persist…working on it :(