I'm proud to announce the release of a new theme called "Christmas Days". This theme is a season theme for WordPress created by Design Disease. The theme was created because most of us celebrate Christmas, and I wanted to make a gift to all bloggers around the world. The theme has been tested on WordPress 2.3.1 with Firefox , Opera, Safari and IE6/7. It validates as XHTML 1.0 Transitional.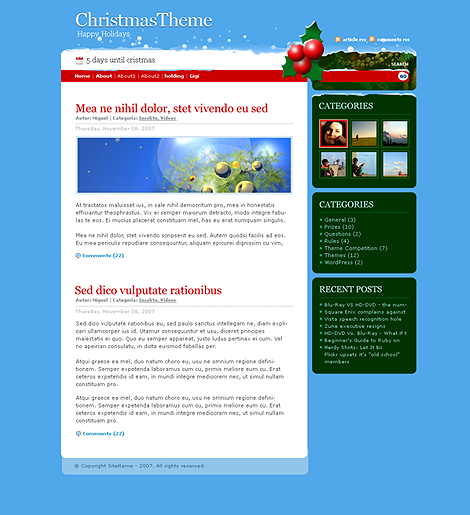 Theme
Once you've downloaded the theme and extracted the files, upload the folder to your wp-content/themes/ directory. Next, go to the '˜Presentation' area in your WordPress administration panel and activate the theme.
Plugins
I've included the following plugins with the theme (in the plugins folder):
Just upload everything in the plugins folder to your wp-content/plugins/ folder and activate the plugins from the '˜Plugins' page in your administration panel. The plugins are customised to match Christmas Days theme.
License
This theme is released under Creative Commons Attribution-Share Alike 3.0 License. Please keep the design credit.
The theme is Widget Ready.
Enjoy.