The new site features 7 high quality, feature rich designs from Design Disease. Each design is available for full preview, and can be purchased with just a few clicks. Two of the designs that we'd like to highlight are Newsmag and Perfection.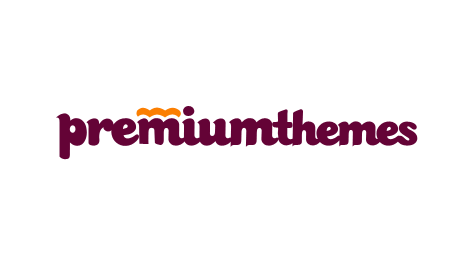 This clean, professional looking theme is a perfect design for your news or magazine blog. Keep your readers up to date on the latest happening in your niche of choice with a an easy to read layout, and highly professional look and feel. Perfect for news sites of all subjects, political blogs, magazine sites, and more!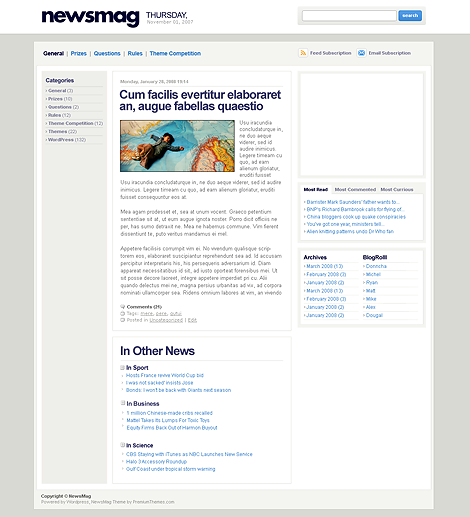 Pin featured articles to keep them at the top of the site, show off your Flickr Photostream with the FlickrRSS plugin, and see Popular Stories, Comments, and Tags in a tabbed interface. The muted backgrounds, and bright blues and golds make this theme perfect for blogs of all kinds. From energy conservation and "green" living, to politics and travel news – any topic is open for "perfection".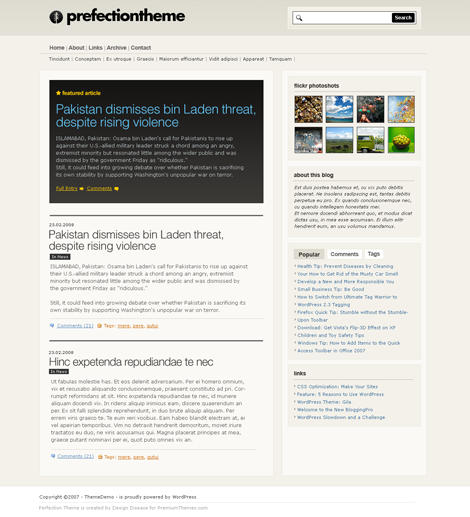 You can not only purchase these themes – you can also sell them as well. Premium Themes has a fantastic Affiliate Program that allows you to earn 40% of each sale of one of our designs….and there is no minimum payout. It's a great program and we're very pleased to be a part of it.
You can check out all the designs at PremiumThemes.com