Evidens is a new 3 column, full width theme from Design Disease. Featuring both White and Dark variations, this modern/industrial theme is both elegant and edgy at the same time. The three column layout is perfect for adsense and text link integration.  The design features ample space for your blog content, making sure you have room for the latest widescreen web video, as well as bright, beautiful images. Advanced options like Flickr Photostream and Twitter integration allow you to keep up with the latest social networking trends, and update your site's content anywhere, anytime.
The modern/industrial look of the theme gives it almost infinite versatility, making it a perfect fit for blog topics ranging from technology, men's interests, and even fashion design. Also be sure to check out PremiumThemes.com, a new project from Design Disease.
A special feature of this theme is the logo changer. You can use the default WordPress setting ('blog name') or you can use your own logo. Upload your logo in the root folder of Evidens theme and name it logo.png. You can also use the PSD Logo Template in the source folder of Evidens Theme. (Image limitations: No more than 500px/70px).
If you want to activate this option go to:
Administration Panel > Appearance > Logo Options, and select logo type.
---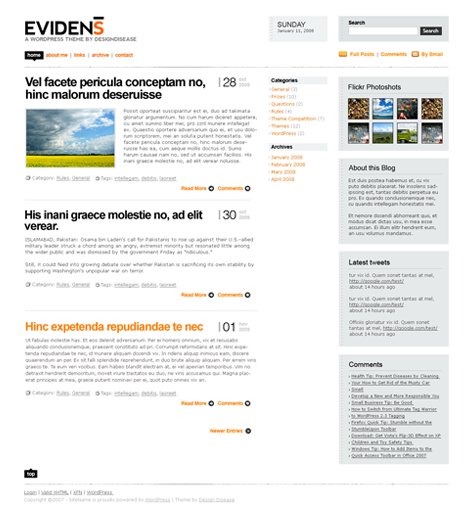 Evidens White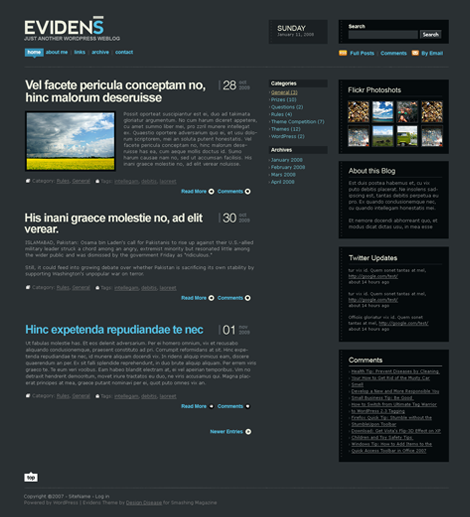 Evidens Dark
In the package download you will find a psd logo template and the required plugins.
This work is licensed Creative Commons Attribution-Share Alike 3.0 License. This means you may use it, and make any changes you like. Just leave the credits on footer if you respect the designer's work.