Fervens is the name for the new theme i made for my friends from Smashing Magazine. What is Fervens and what does it mean? As you might know, I give all my themes Latin names because I believe they are more practical and more brandable.  They just feel right to me.
Fervens is a 3 column theme that has a base idea of "freshness". Summer is my favorite time of year as it always amazes us with a rainbow of sensation and colors, making this time of year the best of all.  The green of the plants and trees, the blue of the water….I love this time of year :)
I tried with this new theme to get something from that "freshness" and make it work on the web, specifically on wordpress, my favorite(and hands down the greatest) blog platform. Because I couldn't agree with Vitaly regarding the column positions we decided to make 3 versions of it, Fervens A (Sidebar 1, Central Column, Sidebar 2), Fervens B (Sidebar 1, Sidebar 2, Central Column) and Fervens C (Central Column, Sidebar 2, Sidebar 1).
Main features of the theme
3 columns of fixed width
widget-ready '" two sidebars (both sidebars are supporting widgets, but I recommend to use the smaler one.
the theme is using 3 plugins; 2 of them are integrated into functions.php, so there is no need to install them. These plugins are Gravatar, Recent Comments and FlickrRSS. You can use the last one to present your Flickr images in a Flickr Photostream (see the demo).
Download the themes for free!
You can use the theme for all your projects for free and without any restrictions. However, it's forbidden to sell or redistribute the theme without both designer's and Smashing Magazine's permission '" please link to this article if you would like to spread the word. You may modify the theme as you wish, but if you are planning to release your modification, please ask for a permission first.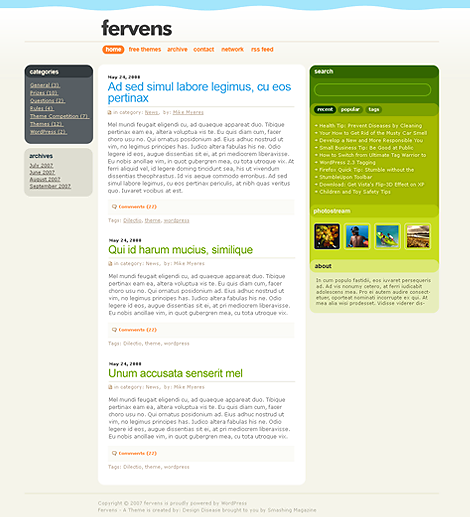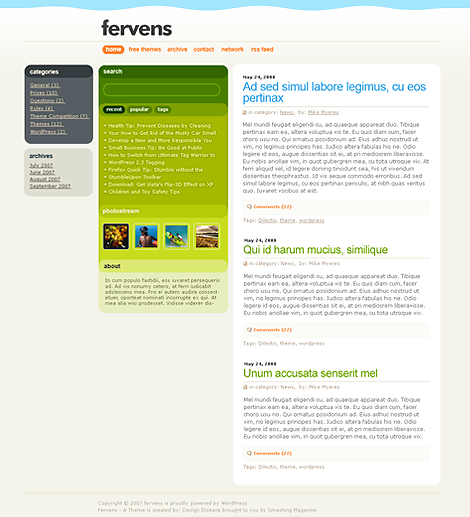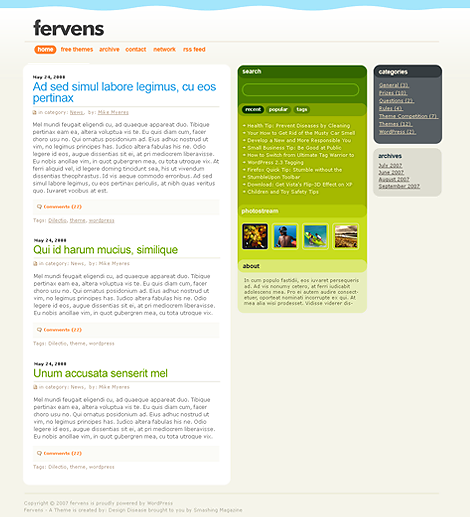 Enjoy.
@Update 08.09.2008
The flickr rss is not running propperly.
Go on Administration Panel > Settings > flickrRSS and you will see 2 inputs for HTML Wrapper.
Place in the first box <li> and close it in the second one </li>