Gadgetizer is exactly what it sounds like it would be about. Gadgets. We wanted a simple theme that focused on the products themselves, so we have a big Flickr area in the footer section, as well as a mashup of images right below the featured post. As always, the front page has an easy to use feature section so you can easily put on display your most in-depth posts. You can even slot in a nice picture and a post excerpt to accompany the headline by editing the feature-image custom field and setting the category to Featured.
We kept it pretty similar in color scheme to the last design, with the colors white, blue, and green. Also we have included the psd files for the logo, robo girl, and for the gadgets snapshots.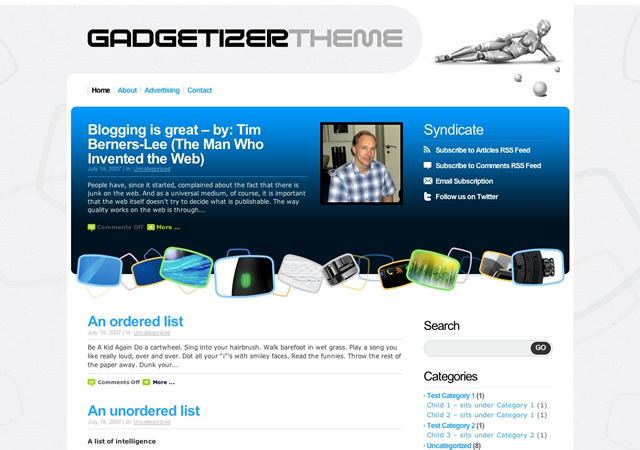 The theme is fully widgetized. A special feature of this theme as we use in many of our themes is the logo changer. You can use the default WordPress setting (blog name) or you can use your own logo. Upload your logo in the root folder of Gadgetizer theme and name it logo.png or you can use the logo.psd as a template. You will find the source in the root folder of the Tipz theme.
This theme also has a large footer bar that includes a links section, Flickr photostream, and latest comments section. Because some people might not like this option, we also included in the theme options the ability to have this section not show up.
The theme is using a few plugins, with some already integrated into functions.php, so there is no need to install them. The only plugin you need to install manually is FlickrRSS.  (FlickrRSS plugin is in the theme folder) (see the demo).
Download Name:
Must contain:
gadgetizer folder

psd folder
plugins folder
This work is licensed Creative Commons Attribution-Share Alike 3.0 License. This means you may use it, and make any changes you like. Just leave the credits on footer if you respect the designer's work.
Enjoy !