PrintRunner is giving away 250 FREE Business Cards to a lucky DesignDisease reader!
Business opportunities can come in unexpected times and places. This is why business cards have thrived to be one of the important tangible communication materials of professionals in different fields. Exchange of business cards happens in and out of offices. There are times when you randomly strike a conversation with a stranger and this becomes your chance to introduce yourself and share your profession. Instead of saying, "I'm a web designer", why not give your business card?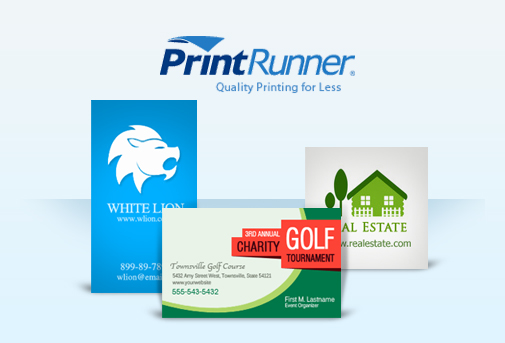 Anybody can join. Whether you are a budding professional looking for quality business cards or an established expert in your field — you can't have enough cards that to give away to your clients, business partners or potential customers.
PrintRunner.com is your convenient printing resource. After 10 years of experience and growth, PrintRunner became one of the leading quality printers in Southern California. Their customer service representatives are ready to answer questions and make sure that customers get the best value for their money. PrintRunner offers high-quality and full-color printing for business cards, postcards, stickers, posters and many more.
The giveaway:
PrintRunner is giving away 250 standard-sized (2" x 3.5") Business Cards. You can have both sides of the cards printed (4/4 color both sides) on a 14pt. UV-coated cardstock. These Business Cards are ready to be shipped in 3 business days. There are no dull sides to these back-to-back personalized business cards!
*No Proof
*No Rounded Corners
You have the liberty to choose your own business card design based on your logo and personal preferences. Business cards are also grounds for first impressions, especially for designers, because your choice of colors, font and design elements reflect the kind of service you offer. Two sides of these cards mean double chances of expression and impression. You can upload this ready-made design file for free.
How to Enter:
Simply leave a comment on this post, and be sure that the email used for the comment is valid so we can contact you if you win.
Other Reminders:
Giveaway is open to US Residents only, ages 18 years old and above.
Standard shipping is for free. Expedited shipping will be shouldered by the winner.
Prize Substitution is not allowed.
You can follow PrintRunner on Twitter and like them on Facebook to get updates about PrintRunner's products, contests and promos!
Attention: this contest is now closed, congratulations to our winner Natasha Dythia! Please check your email for details Natasha.