#Source: LifeSpy
Update: And we are back with Illacrimo. Our intrepid designer just wasn't happy enough with the way things looked, and had to go back and make it perfect.
I didn't know that it wasn't already, but then again, that's why I am not a designer.
'"
We have a great three column theme for you called Illacrimo. Created by Design Disease, and released here on LifeSpy. It is the third free theme that Bloggy Network has released. Illacrimo has a strong color set, that should appeal to many, and works well with the plugins we have included in the download file, or without.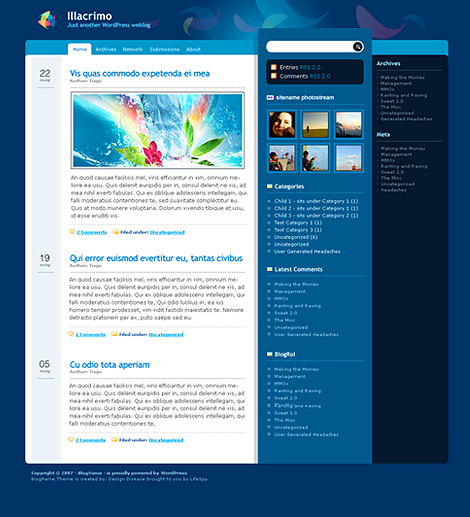 Supporting plugins like:
Gravatar
FlickrRSS
Pagenavi
Make sure you put them in the right place and activate them if you want the full Illacrimo experience.
This theme, like all themes released by Bloggy Network are released under Creative Commons Attribution-Share Alike 3.0 License.
Currently, you can check out a live version at Design Disease.
Note: We have released a Widget ready version of the popular Illacrimo theme which you can find on a new post here on LifeSpy.
Last Update:Â  February 02 2009