We decided to further tweak some themes we released the other day as we just weren't happy with the final outcome :) Anyway, here the first one is rereleased. First up is……
Money Blog
Nothing says money more than the color green so here's a theme for you. The front page banners a "feature" section so you can easily pimp headlining posts. You can even slot in a nice picture and a post excerpt to accompany the headline by editing the feature-image custom field and setting the category to "Featured". Rounded corners give the theme a Web 2.0 feel. The theme is fully widgetized.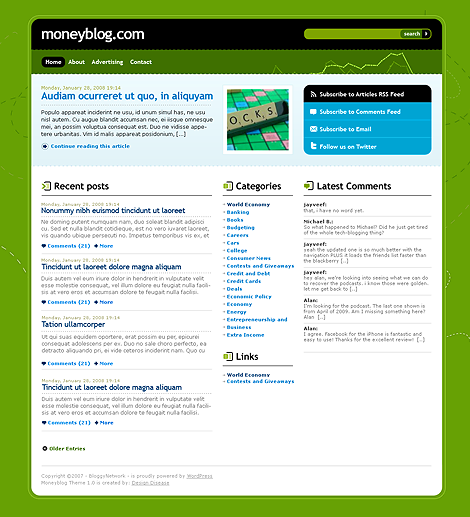 A special feature of this theme is the logo changer. You can use the default WordPress setting ('blog name') or you can use your own logo. Upload your logo in the root folder of Money Blog theme and name it logo.png or you can use the logo.psd as a template. You will find the source in the root folder of Money Blog theme. (Image limitations: No more than 400px/37px).
If you want to activate this option go to:
Administration Panel > Appearance > Logo Options, and select logo type.
This work is licensed Creative Commons Attribution-Share Alike 3.0 License. This means you may use it, and make any changes you like. Just leave the credits on footer if you respect the designer's work.