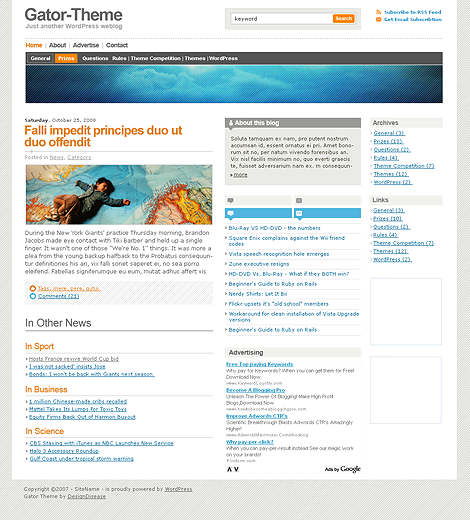 I'm very happy to announce the release of a new set of themes designed by Elena of the Design Disease team. This set was designed for Hostgator Web Hosting and she spent a great deal of time perfecting the theme to provide a nice, professional, look. The results, I think, are a stunning blog design that is both visually pleasing, and very effective for a variety of different blog types.
The set includes four variations of one main theme, combining different color schemes to ceate new effects for each separate blog design. The three column design features varying widths to allow the user to maximize the content and ad placement on the page.
The first column is wide enough to publish all popular web content from simple posts to complex video and embed-able flash widgets. The second column is wide enough to support popular square advertisements – or even some web video players on its own. The third column is smaller, and a perfect match for skyscraper and other popular sized text ad links.
The main graphic can be customized by adding your own image to give your blog a unique identity, and the simple, easy to read style of the site will have visitors returning to your site daily.
Hostgator is a high quality, top tier web host, and all of us at the Design Disease team are very happy to have worked with them on this project. If you'd like to download any of the four theme variations for your blog, click here to get them now. If you are interested in their services, check out HostGator coupons to save some money.