Today, we are happy to present a new freebie: a beautiful theme, designed by DesignDisease which was developed for Smashing Magazine and its readers.
As usual, the theme is free to use in both private and commercial projects. The theme is based upon the Twenty Ten WordPress theme and requires WordPress 3.0 or higher to run.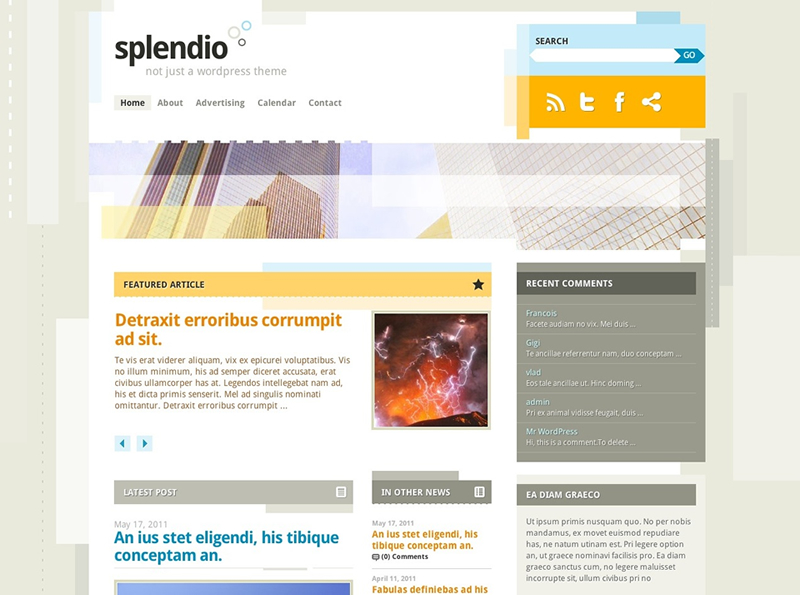 Visit the demo or a large view.
The upper area contains a slider where you can place extra emphasis on your most important pages. The main area can include the content of your latest blog posts. On the right side you'll find an overview of latest blog entries as well as the latest tweets.
The upper area of the sidebar features five latest comments. You can place any widget under it as it is defined as a dynamic sidebar. Also, right above the footer you'll find a Flickr gallery in case you wish to showcase your latest shots. The footer itself is designed in a pronounced blue, giving it a nice contrast to the rest of the design. There you you can place your widgets such as Pages, Categories, Archives, and others. A soft upper area, a useful middle area, and a strong footer are the essence of this theme.
Download the Theme for Free!
The theme is released under GPL. You can use it for all your projects for free and without any restrictions. Please link to this article if you want to spread the word. You may modify the theme as you wish.
Behind the Design
As always, here are some insights from the designer:
"Releasing a theme on Smashing Magazine is always a challenge for us at DesignDisease. A challenge we look forward to. Splendio is a theme where we try to solve the empty space that exists around most themes with a joyful rhythm of lines and squares, complimented with a light color palette. The specialized header images complete the package, as it can be used both in a static or randomized manner."
Thank you, DesignDisease! We sincerely appreciate your work and your good intentions.