We wanted a good strong theme that could fit a wide variety of topics for Tipz, which mainly writes how-to articles among various other topics. The front page has an easy to use 'feature' section so you can easily put on display your most in-depth posts. You can even slot in a nice picture and a post excerpt to accompany the headline by editing the feature-image custom field and setting the category to 'Featured'. We always like our rounded corners, which give the theme a simple Web 2.0 feel.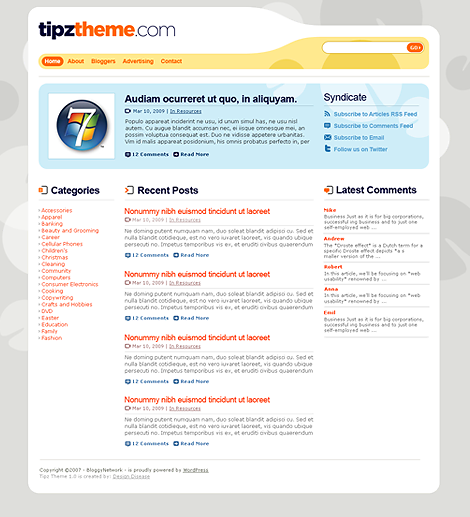 The theme is fully widgetized. A special feature of this theme as we use in many of our themes is the logo changer. You can use the default WordPress setting ('blog name') or you can use your own logo. Upload your logo in the root folder of Tipz theme and name it logo.png or you can use the logo.psd as a template. You will find the source in the root folder of the Tipz theme..
This work is licensed Creative Commons Attribution-Share Alike 3.0 License. This means you may use it, and make any changes you like. Just leave the credits on footer if you respect the designer's work.
Enjoy !
Update! – 02.12.2009
Gravatar problem fixed
Page Navigation problem fixed
Many ask about feature image usage. Click on this screenshot and you will see how can make that image appear on featured post. For the design quality try to use a standard 150px/150px image. See how!
GreenGeeks offers you a secure place to host your website.